Helicopter Parents on the Job Search. If you are a parent of a young adult, you could be earning a nickname you've never heard of: "helicopter parent." These parents tend to "hover" over their Generation Y child's life more fully than any generation before.
As technology has evolved, cell phones and PDAs have enabled a far greater level of parental vigilance. University of Georgia professor Richard Mullendore has referred to the cell phone as "the world's longest umbilical cord."
And the impact is far-reaching. Employers are reporting instances where helicopter parents have been involved in their child's first job search. In some cases, hiring managers were shocked and surprised at how significantly the parent became involved in the process.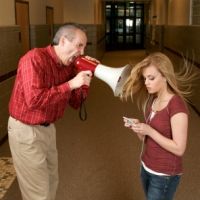 Helicopter parents overhead
Gwen Martin is the co-founder of NumberWorks LLC, an accounting and finance staffing firm based in Minneapolis. Martin says that about one in every six interactions she has regarding job openings is from a helicopter parent.
"We had one mother who called us to see what positions we had open and to talk about her son's educational background and job experience." Martin recalls. As a hiring manager, Martin would hope that the candidates make those calls on their own behalf. "Her son was finishing his last class before graduation and was too busy to make the call himself."
Eileen Habelow is a regional vice president and director for the staffing firm Randstad USA. She's also had some eye-opening experiences with the parents of young job seekers. Habelow remembers one candidate who seemed ideal in many ways -- except one.
"During the interview process, the candidate continuously referenced her parents, their roles in her search, their support in evaluating us as an employer and a financially stable company, and their advice on how she should negotiate the employment deal," Habelow recalls.
That level of parental involvement raised some red flags. "She was a very sharp candidate: polished, smart, well-educated and confident. However, the constant reference to mom and dad was a definite turnoff," Habelow states.
The company hired the candidate, but Habelow soon regretted that decision. "After three months she let us know that her parents agreed that maybe this was not the best fit after all. I will trust my instincts next time."
Working with helicopter parents
Some hiring professionals are beginning to embrace helicopter parents. "Basically, the helicopter parents are here and savvy companies are catering to them," says Lisa Orrell, author of "Millennials Incorporated" and consultant to companies that recruit and employ younger workers. "I tell clients they can scoff at this or deal with it. If a key factor to wooing the candidate is getting their parents' buy-in, then create ideas to woo the parents, too."
Orrell thinks that companies need to modify traditional approaches and ideas when it comes to recruiting Millennial, or "Gen Y," employees. "Companies really need to understand that Gen Y is very close to their parents and value their opinions when it comes to a job," she notes. "I know of companies who conduct family days, where Gen Y candidates can bring their parents to the company for a tour and to meet key personnel."
A balanced approach
Too much parental involvement can be a detriment to your child's job search. Recruiters and hiring managers can view "hovering" as a negative. They may believe that the candidate isn't independent or lacks initiative.
An ideal role for parents is that of mentor. You should share tips on workplace behavior, like dealing with office politics and accepting constructive criticism. But don't shadow your son or daughter through his or her search process. Since current trends indicate workers are changing jobs every few years, they will benefit more in the long run from learning sound job searching skills.
Here are some possible pitfalls where you may be tempted to act on your child's behalf, as well as alternate courses of action.
If you're tempted to write your child's résumé...
Plan of action: You can provide guidance by sharing your own résumé. There are also resources online, like CBResume.com, where job seekers can get help creating new résumés or review existing ones.
If you're tempted to organize your child's job search...
Plan of action: Guide your child to resources that can help her plan and organize her job search. She can register for a free account on CareerBuilder.com, upload a résumé and set up job alerts. Offer to give her ideas for searching, but allow her to seek out opportunities on her own.
If you're tempted to call the employer...
Plan of action: If your child is reluctant to make a follow-up call after an interview or résumé submission, find out why. If he feels unprepared, engage him in some brainstorming and help him identify possible responses to the questions he would most likely be asked.
If you're tempted to go on the interview...
Plan of action: Offer to be a chauffeur to the interview, so your son or daughter doesn't need to focus on parking or other logistics. Stage a mock interview prior to the real one and offer constructive feedback to your child's answers. Acknowledge their good instincts and work with them to identify areas for improvement.( msn.com )